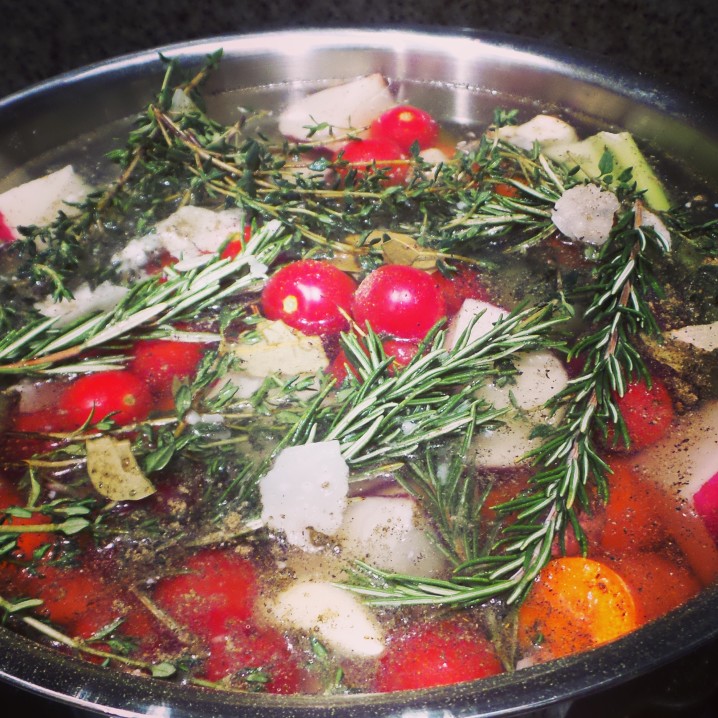 One of my favorite things to cook when I'm sick or during the Fall/Winter Season is Chicken Soup. I make everything from scratch, and use no artificial ingredients. It takes some time, but oh boy is it worth it! It's a great meal because it has your protein, veggies, and starch in one pot.  It's actually pretty easy to make. Keep reading for the recipe.
Lana Alicia's Homemade Chicken Soup 
What You will Need
-Big Pot(7 or 8 qts)
-Whole Raw Chicken
-1 Onion
-Fresh Garlic
-Package of whole carrots
-Celery Stalks
-Tomatoes(grape, cherry)
-Red potatoes
-Fresh Tyme , Sage, and Rosemary
-Locatelli cheese( Parmesan Cheese)
-Salt & Pepper
-Red Wine
How its done
-Rinse the chicken with water to clean it, and take any of the guts out if there is any
-Put the whole Chicken in the pot
-Chop the onion four ways and it put around the chicken in the pot
-Add the celery stalks and carrots. I use almost the whole bag of each and  just cut them in half and throw it in the pot as well
-Add the tomatoes. Any kind works; I prefer the ones that look the sweetest so usually grape tomatoes or cherry tomatoes
-Take 2 or 3 potatoes and cut them four ways and add to the mix
-Add a few cloves of garlic cut
-Add all the fresh herbs
-Next fill the pot with water until the chicken is completely covered
-Add Salt, Pepper and some Parmesan Cheese. Don't forget its a large pot so spice accordingly. Don't over do though you can always add more at the end
-Turn the gas on high and bring the entire pot to a boil
-Once at boiling point lower the gas on the stove (if your stove has number I put mine on 3)
-The soup should simmer for about 80 mins
-A good way to tell if its done is if the celery and carrots are nice and soft
-Serve with your favorite pasta or noodle ( Stars, Orzo, Fideo)
I always keep my soup separate from pasta and only marry it in the individual bowls
Dinner Is Served
Now that the soup is done, you can add more salt, pepper and cheese. My favorite trick is to add about a half of teaspoon of red wine, and red pepper flakes!
Enjoy!!!!!!
xoxox,
Lana's kitchen