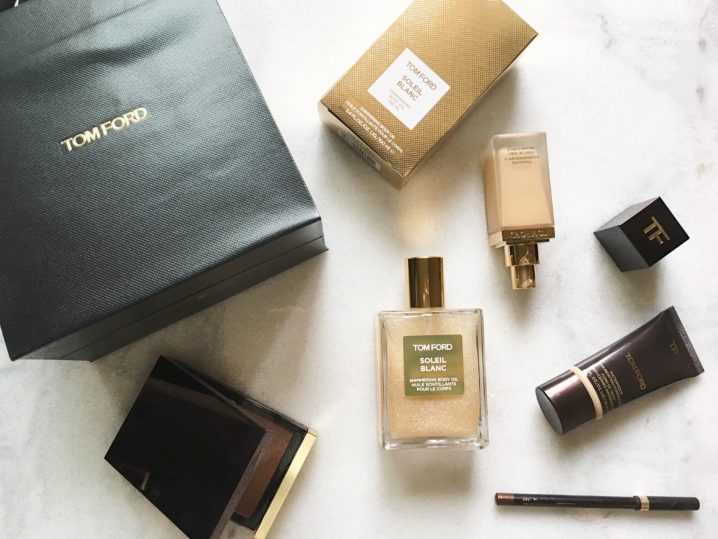 My Favorites From Tom Ford Beauty
*Disclaimer: I do not collab with Tom Ford. I actually purchase their products. The products I listed are the ones I personally love, and work great for me. Like every skincare and makeup line they have their strong points. For example: They may be the top for foundations, but I may think their blushes are just normal. Like in my post a "Note To My followers" I will never post an item I do not love or have not highly educated myself on. I feel like as a blogger you should work with your strong suites. If you don't know much about skin care; don't post about it. I stay true to this. I want m followers to trust me, and know I am authentic . Makeup and skincare is one of my passions.
If you have been following me, and my blog for sometime now; you know my love for Tom Ford cosmetics. My love for Tom Ford started when I was young, and he was the creative director for Gucci. I had a total crush on him. I also thought Gucci was at their prime with him as their director. But like all good things they must come to an end. He had to step down as creative director.
Well you could only imagine how I excited I was when he came out with his own line. Along with his amazing couture he had makeup and skincare. Now seeing the prices if his products definitely put me off. I didn't even want to go near the products, but then the buzz began. More and more I kept hearing how amazing his foundations were, and his mascara etc. So in true Lana fashion I tested the products myself. I went to Neiman Marcus and made my first Tom Ford makeup purchase. It was their traceless foundation, mascara and eyeliner in Metallic Mink .
As much as I didn't want to love the products I did. The foundation was beautiful. It had a skin like finish and was light and lasted. It is now in my list of favorite foundations. The mascara made my lashes pop. So of course I was intrigued and bought more products. I can say I have a decent collection of Tom Ford Makeup. Obviously everyone who follows me knows I use a wide range of products at different price ranges. Sometimes I feel a splurge is necessary; other times its optional. If you can afford to buy all Tom Ford products go for it. If not one or 2 products may be just enough for you. Thats why in this post I broke down my favorites of his line thus far.
Products I own
Foundations
I have the traceless foundation, foundation stick and the new full coverage foundation. I can tell you I love the first 2. The newest one I have not used enough to give you a perfect review. I can say it looked beautiful on my skin. For me foundation testing is a big thing. I put it through many obstacles before giving my accurate review lol. I will have a favorite foundation YouTube video so you will learn more there. Subscribe here if you haven't all ready.
YouTube link below
 https://www.youtube.com/channel/UC7DaPWSLNJ2eJsOcVQjRlFg/featured
Face Products
Shade & Illuminate Intensity 2: This is the best cream contour I have ever used. It goes on like butter and blends out perfectly. It is also the perfect color. I use this product always when I contour.
Skin Illuminating Powder Duo 01 moonlight: I use this product a few different ways. It comes with a lighter shade and a darker shade. You can swirl the two colors together with a powder brush, and use it to set your face. You can also contour and highlight with the 2 shades for a super natural look. Also you can use the products individually to set the face; or even use as a shadow.
Bronzer: It is just the perfect color bronzer. It is not to cool and not too warm. It is finely milled, and has just a touch of sparkle for the perfect bronze glow.
Bronzer Brush: Ok so its definitely really expensive, but I need to be honest and say its in a category of its on. You just can't replicate that brush. I have a lot of cheaper brushes that I can tell you are equally as good as some more expensive brushes, but this one is just on a whole new level of wow.
Eyes
Pencils: The eye defining pencils are my fav. They just glide on super easy. I have it in black (02 Onyx) and A golden brown (03 Metallic Mink). I normally just put them along my upper and lower lash line. The metallic Mink is my fav because if you know me I like a softer liner; so this color makes your eyes pop without being black.
Cream Shadows: I  am just a fan of cream shadows and Tom Ford makes all the pretty bronzy colors I love.
Mascara: If you love mascaras like me, and are always on the hunt for one; this is one of my favorite splurge mascaras. What I look for in a mascara is length, volume, volume , volume and pop. It has to be super black.
Body
Tom Ford Shimmering Body Oil: Ok this is a ride or die. I can't live with out it. Its always a part of my collection. The smell is amazing. It just reminds me of summer. Like suntan lotion . It makes me so happy. It isn't super oily like baby oil. It just gives your body that perfect glow with a hint of sparkle. It basically completes your makeup look on your body.
Perfume: The Tom Ford Soleil Blanc Eau De Parfum is my favvvvvvvv. It has the same scent as the shimmering body oil. To me it screams clean, fresh ,summer and vacation. I love it all year round because lets be honest who doesn't want to me reminded of vacation. It is very pricey, but comes in several sizes.
Tom Ford Soleil Blanc Eau De Parfum Dry Oil: This product is just like the shimmering body oil, but has no sparkle. It has the same scent as the above as well. This is great when you just want a fresh look. Moisturizes, but is dry and smells great.
*Tip: Mositrized skin holds your perfume scent longer. I never spray my perfume until I have moisturized my body. You can layer the oils with the perfume for an even longer lasting smell.
*Also the perfume is a Eau De Parfum and not a Eau De Toilette. Which means it is heavier and will last longer. The concentration of fragrance oils is higher. This is something most people do not know when they are perfume shopping. Always ask because it may be a deciding factor for you.
SHOP ALL THE PRODUCTS I MENTIONED BELOW. I THREW IN DIFFERENT SIZES AND STORES THAT CARRY THE ITEMS AS WELL
.