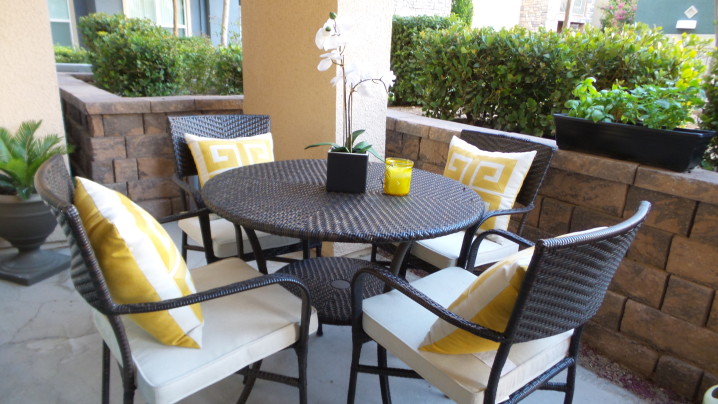 Patio Makeover
I decided to makeover my patio this summer. A patio, deck , porch etc. should be an extension of your home. My patio slider is  off of my living room so I love leaving it open like one big room. My home decor is white, cream, gold and silver; so I wanted my patio to go with that theme.
I already had a table and 4 chairs that I purchased from Pier 1 Imports 3 years ago. I still love it, and its in good shape despite the vegas heat and sun. I also had 2 planters that I bought at Lowes.
I swept my patio and power washed it. Everything gets dusty fast in vegas because of the sand and wind. I also washed down my patio furniture, and planters with a bucket of warm water and MR CLEAN.
Now comes the fun part. Shopping for some new pieces, decor and plants. My patio extends almost the length of the front of my condo. So I had extra room for more out door furniture. I wanted to put a love seat under my master bedroom windows, and a pretty garden stool as an end table. I went back to Pier 1 imports. I really like their outdoor stuff and it's a decent price compared to some of the other stores. They were also having an amazing sale; up to 50% on all outdoor decor. I found an amazing love seat and ottoman that matched my set. Also, all new pillows for all the patio furniture. For my flowers, and plants I went to Lowes.