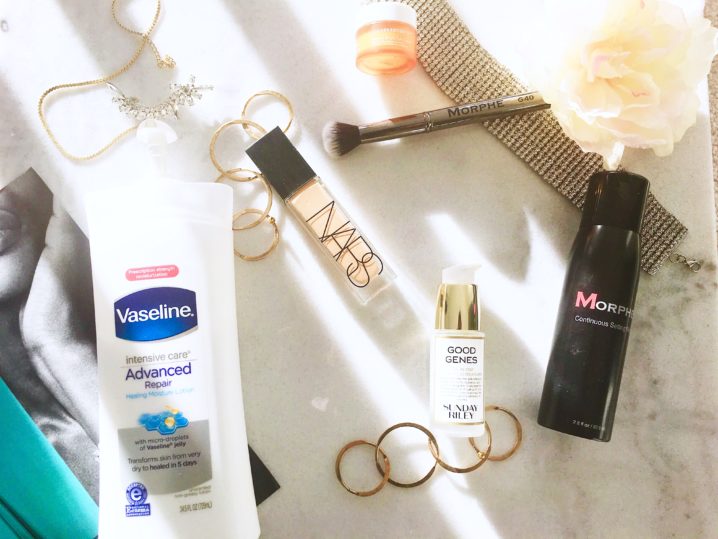 14 New Products I have Been Loving
I did a pole on Instagram Stories asking if YOU wanted to know the new products I have been using, and loving. As a blogger it is part of my job to research EVERYTHING; so you don't have to. I am basically your guinea pig, but it's ok because I love it. We all know I'm a total skincare & makeup junkie. I'm always on the hunt for the new, and best products on the market. I'm also not afraid to say a product I have been using for 5 years is better, but that will be for another post. All of my Holy Grail products.
This post is about some new products I have discovered, and head over heals for. More then likely a lot of them will be on my holy grail list. They are mostly skincare & makeup products, but there are other things in this post besides just that. Here they are:(PS you can shop all the products at the end of the post.)
1.) PURE HYDROLYZED COLLAGEN PEPTIDES: Okay so I am not really the girl that gets into fitness & protein powders. Honestly; I don't even work out (thats bad I really need to start). I heard about this product from a friend of a friend lol. She had suffered from bad melasma. If you don't know what melsama is its a skin disorder that is actually inflamation under the skin. Its brown patches that can be caused from pregnancy , too much sun exposure; or hormonal imbalance. In a short version its basically hyperpigmentaion. Well anyway I have some melasma from a illness I am currently suffering from. So when I heard that it really helped her; I wanted to try it. It's not just for that. It has so many more benefits. Collagen is one of the most important nutrients needed to to ensure the health and vitality of your skin, hair, tendons, cartilage, bones, and joints. Collagen production typically slows at a rate of 1.5% per year after the age of 25. As collagen production slows, the fibers in the body become brittle and begin to break down resulting in many of the degenerative effects of aging.
The best  thing about this product is that it is a powder that has no taste, and is water soluble. So you can add it right to your coffee in the morning, shake, blender, oatmeal; or whatever you do in the morning. And WAIT! It gets better you can use it as a face mask too. We all know how I love face masks. Point blank end of story SOLD!
2.) DERMA- E ANTI-WRINKLE FACE WASH: This was a face wash I picked up because I wanted to try some "natural vegan" products, but also I wanted a cleanser that had some active ingredients in it. This face wash is very affordable. It contains Vitamin A and Glycolic Acid; which is great for anti- aging, and also acne. It is also a chemical exfoliant. That means it doesn't use things like little beads so slush off dead skin cells. It is a great alternative to a scrub; especially if you have break outs. You never want to scrub a break out because you risk opening up the pustules, and spreading the bacteria all over your face; causing even more acne. Since the face wash uses Glycolic Acid it falls under the chemical exfoliation category. This face wash leaves your skin glowing, but is not to harsh. I would suggest to just start using it at night to see how your skin tolerates it, then you can try using it twice a day. Me personally sometimes I use it AM & PM; or just at night depending on my skin.
3.) DERMA-E PURIFYING 2-IN-1 CHARCOAL MASK: We all know I'm obsessed with face masks. I only own like 100 of them lol. I picked this up because my skin was "going through something". I normally don't break out, but recently my whole body has been off. So I wanted to find a face mask to help clear up my skin. This charcoal mask is a dual action fomula that purges pores of deeply rooted toxins, then exfoliates away micropollutants for purely glowing skin. I noticed a difference after just one use. It unclogged my pores, and helped to clear up my acne. I also like that it detoxifies your skin. We wear makeup that contains chemicals; so it is always good to do a good detox of the skin weekly.
4.) JUICE BEAUTY Oil-Free Moisturizer: I am a fan of Juice Beauty. I have been using their oil cleanser for a long time. I was looking for a oil free moisturizer to help with this new found acne on my face. The catch is that my skin is dry; so I needed something that was truly hydrating. This contains hyaluronic acid. Hyaluronic acid is a natural substance in skin that has the stunning capacity to attract, and hold vast amounts of moisture. So this is ideal for hydrating and plumping up your skin. This moisturizer also contains vitamins and ingredients that ideal for anti-aging, calming the skin, and helping with acne.
5.) SUNDAY RILEY GOOD GENES: This product has been a game changer for me. I absolutely love it! This is a all in one Lactic Acid treatment that is good for all skin types. It is formulated with high potency, purified grade lactic acid that immediately exfoliates dull, pore-clogging dead skin cells, revealing smoother, fresher, younger-looking skin. If you have textures issues, hyper-pigmentaion, wrinkles, acne this is amazing. It truly combats everything. Those who have been with me for a while know that Retinol/Retin-A is my holy grail product. Good Genes works great with it. They are like best friends. I apply my retinol first let it soak in; then apply my Good Genes. Then I finish off with a face and eye cream at night only.
6.) OLE HENRIKSEN BANANA BRIGHT EYE CREME: A brightening, vitamin C-rich eye cream that targets signs of aging, reducing the look of dark circles while improving concealer application and wear—inspired by makeup artist secret, banana powder. I am loving this eye cream for daytime either alone; or under my makeup. It instantly brightens your under eyes & keeps your concealer looking fresh all day long. I apply this around my entire orbital bone. That means under my eyes, and also around the top of my eye on my brow bone, and slightly down. You never have to put eye cream right around the lash area because your bodies natural heat will cause the product to move down on its own. If you don't use an eye cream START. Like right now. It's the first place we start to age. I would say to start using an eye cream at 16.
7.) DR. DENNIS GROSS ALPHA BETA PEEL EXTRA STRENGTH DAILY PEEL: I actually have been using this product for a few years, but not sure if I mentioned it until recently. This is a product worth the hype. It's an at home daily anti-aging peel that is super easy to use. It's great for serious break outs and acne, skin that is very rough, dry, or dull and aging skin and wrinkles. It is a 2 step process that takes 2 minutes. You can use this daily. I like to use this at night. I would use it once a week at first to see how your skin tolerates it; then you can work your way up to using it as many times a week as you like. For me it all depends whats going on with my skin. If I am breaking out; I like to use it every night. If my skin looks good I will use it a few times a week.
8.) DIOR CREME de ROSE SMOOTHING PLUMPING LIP BALM: Ok I know this seems super boushy for a lip balm, but I just love it. I use it every day either alone; or under my lip stick. It soothes, re-plumps, hydrates, and protects the lips with SPF 10. This nourishing lip balm comes in one universal petal pink shade and features a delicate rose scent. I was never a big lip balm person until this. I actually enjoy using it, and it tastes and smells amazing.
9.) NARS NATURAL RADIANT LONGWEAR FOUNDATION: This foundation quickly made it to my favorites; which doesn't surprise me because their others have been on my list. Since I bought this foundation its all I have been using. All my latest posts on Instagram this is whats on my skin. I love it because it is light weight; has great coverage , leaves your skin looking radiant, and lasts all day. I mean really; do I need to say any more? I'm never a fan of a super matte foundation for a few reasons. A: I have normal to dry skin. I don't think anyone with dry skin should use a super matter foundation. B: Radiance exudes youth. Nothing says young healthy skin; like a healthy glow. No matter who you are your whole face should never be matte. This takes away from the natural shape, and contour of your face.
10) VASELINE INTENSIVE CARE LOTION ADVANCED REPAIR: I started using this product because I wanted to find a more cost effective body lotion then my Kiehl's. Don't get me wrong it is still my favorite, but not everyone wants to drop that amount of money on a body cream. I found out about this from a a interior design blogger I follow. Her dermatologist told her about it. She uses it all over her body including her face. So I thought I would give it a whirl. Now I have yet to put it on my face; I'm not sure if I ever will, but I have been using it everywhere else. I always shower; or take a bath before bed then moisturize my body. I tested this for 2 weeks. At first I was like hmmm… it felt a little sticky almost like it didn't fully absorb, but I kept at it. I started to notice a difference in my skin. My skin felt super soft even after I washed it off which is huge. As my skin became softer it seemed to absorb even better. Now it still leaves a creamy feeling on your skin, but I don't mind it because my skin is so soft now. So if anything use it as your night cream. I apply it all over my body, feet, hands and neck. It really is very good. Especially; if you have super dry skin like me. I am even more dry because I live in Vegas. It's also been awarded the U.S. National Eczema Association (NEA) Seal of Acceptance.
11.) DOVE SENSITIVE SKIN PUMP BODY WASH 34OZ: I have used dove soap for as long as I can remember, from every bar to every scent, but this one is hands down my favorite. Its great for sensitive skin. I love the scent its light but, clean and leaves my skin so soft. I say the pump body wash because I find that its the most effective. It is a large size, and the pump makes it very easy to use in the shower. I find that the smaller bottles that you have to squeeze get clogged, and thats just annoying.
12.) MORPHE HIGHLIGHT & CONTOUR SPONGE: My favorite makeup sponge has always been, and still is the black BeautyBlender. I recently wanted to branch out just to see what other sponges were out there, and at different price points. Jaclyn Hill always raves about this sponge; so I decided to give it a try. I have to say I am impressed. I really love the shape. It's great for blending, and it helps with contouring. It's also only $7.00. So in true Morphe fashion your getting a great product for a great price.
13.) MORPHE CONTINUOUS SETTING MIST: I love everything about this setting spray. From the bottle to the formula. It keeps my makeup on, and fresh; while leaving  a soft dewey finish. This makes it to my list of favorite setting sprays.
14.) MORPHE G40 Pro Detail Powder Brush: Like many Morphe brushes this one does not disappoint. It says powder brush, but I love it for buffing out concealer. Sometimes we just don't feel like wetting our sponge. This really blends out my concealer well. I also love it for those "no make up" makeup days. You can just add concealer over any blemishes on your face, and gently blend it out with this brush. I do the same with a full face of makeup; if I have to go back in with concealer for extra coverage I will lightly buff it with this brush.  You can use any brush the way you want. This just happens to be how I use this brush. It can kind of just do anything.
Morphe G40 Brush here 
Morphe Setting Spray here